VIP Servers are a feature that costs 250 Robux per month and allows VIP owners to set the length of the tower from 4-200 and skip the current tower. VIP owners can even lock the shop if they wish. The only secret section that can appear on a VIP tower is Blank. They can also add mods to the tower (ToH:R is the only mod in the game currently).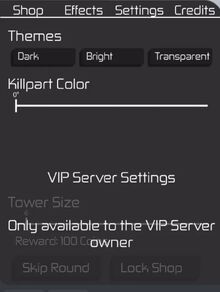 Commands
/Skip
/kick
/Mod
/Remove
/Setlength
/Sban (the s means server)
Admin Commands
/Mutate
/Revert
/Scare
/Scare2
/kill
/Givegear
/Fly?
/Win
/Invis
Community content is available under
CC-BY-SA
unless otherwise noted.