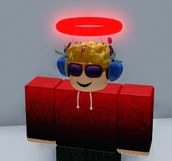 Hey I'm Taps7767, a bureaucrat on the Tower of Hell Wiki.
I've played Tower of Hell since January 2020, I do not play as regularly now, but I am still involved with the game's community.
I come on the wiki every day, where possible, to review people's edits and try to improve a few pages each day while I'm here, hoping to keep the wiki consistent and build upon it where possible.
If you see any vandalism, mistakes or incorrect info anywhere on the wiki feel free to message me about it on the tower of hell discord or here on the wiki!
Note: If I'm not available I'd recommend messaging fellow bureaucrat PhoebeOwO.
MY Tower of Hell Stats
7 THE Tower of Hell wins.

THE Tower of Hell 150 wins - 1
THE Tower of Hell 169 wins - 5
THE Tower of Hell 210 wins - 1

Owner of red, purple, pink, teal and blue ring halos (Formerly owned orange and blue).
Level 111.
Still a mega noob.

Better than DerHausaufgabe!?

Lost at Tic Tac Toe to DerHausaufgabe in February, 2021 😭