STATUS: SLIGHTLY ACTIVE
ANNOUNCEMENT BOARD
GENERAL
-Cool People:

<insert name here>

, Weirdo, Taps , Seren , and Lookar :D (No Gabe, definitely not including you).
-I'm moving to JToH now :)

-You may have notice that I'm barely making edits now; that's because I've slightly lost interest in editing and prefers spending my time on Discussions.

-Tower of Hell with Admin Commands is pretty fun...

AUGUST 23, 2021

-"MY SECTIONS" will be deleted due to the amount of work I need to put just to edit it.

JUNE 7, 2021

-3 new sections have been made! Check "MY SECTIONS".

MAY 29, 2021

-I'm still making sections, I'm just too lazy to put them here.

MAY 22, 2021

-I haven't announced anything yet so... hey!

APRIL 30, 2021

-30 sections milestone!

APRIL 27, 2021

-Making Tower of Hell sections is honestly fun! I kinda prefer making sections than playing the actual game lol.

APRIL 26, 2021

-Tower of Hell has now become insanely boring for me, there is nothing to grind for. Though I might still be active here every now and then.
WIKI INFORMATION
Random person that's active on this wiki, I'm active on discussions and help out with pages such as grammar, colour links, tips, vandalism, etc.
I created most of the images in the TTOH pages B).
I sometimes make posts in discussions, usually Guess The Section, Wrong Answers Only, and random joke posts.
TOWER OF HELL INFORMATION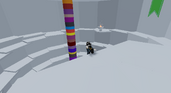 I usually play Tower of Hell for relaxing, mostly with music.

Met a lot of great people back then. I was extremely active in S_Viper's server and got to play with him too.

I completed 169 TToH a few days before it became unobtainable. Getting the Red Halo had a long verifying process so I never got the halo at the time.
STATS
Level: 113
Coins: 80k+
Halos: Purple, Teal, Pink
Speed: Decent
Consistency: Decent
169 TToH Wins: 4
210 TToH Wins: 1
CREATING SECTIONS
Links to help you create sections.
Tutorial by Gabe: https://www.youtube.com/watch?v=ffyyQMH35c0
Tutorial by Fireball: https://www.youtube.com/watch?v=rmDoCx2JCkM
What not to do by Seren: https://www.youtube.com/watch?v=EHYETHQb0TY
Other things to help you create sections.
Rotator: https://www.roblox.com/library/5353101771/Rotator
Killpart Spinner: https://www.roblox.com/library/5353099621/KillPartSpinner
A GUIDE TO TAKING CARE OF YOUR PET COIL
Author: NotTerry20
This Novel is not finalised yet, there will be some changers. Message me if you want to add/change something.
Why did I create this, you asked? Well, I'm not sure but it's here anyway!
INTRODUCTION
This guide will help you in taking care of your new Pet Coil! Pet Coils are generally good pets for your family or yourself. They are extremely loyal and a good companion for years to come.
This guide can be applied to the following breeds:
Note: batteries are not included. (Why do you need it anyway?).
CHAPTER 1: THE BASICS
In this section, this guide will teach you the basics of taking care of your Pet Coil.
FIRST MEETING
When you first meet your Pet Coil, it can be curious with it's surroundings. It is needed to leave your Pet Coil on it's own for 5-10 minutes for them to adjust to it's new environment. You should also give them a name!
Always remember to be gentle with your Pet Coil! They are very sensitive, especially when meeting it's new owner. Every Pet Coil has a different personality, some prefer to be alone and some, prefer to be played with most of the time, so it's best to know what they like and dislike.
Pet Coils always grab onto the owner's right arm, if your Coil is gripping onto your left arm, then it's likely that it's a plastic version.
HABITAT
Pet Coils prefer to be placed in a quiet environment with a lot of space to play with.
It's new habitat must have the following:
A cosy bed.
A light source, such as a a lamp.
A pet bowl.
toys, such as a hook or trowel.
PROPER HYGIENE
Hygiene is an important part in taking care of your Pet Coil as it will help them stay clean, healthy and happy!
Pet Coils must be washed daily with soap and warm water as they get dirty really quick, especially when playing Parkour with their friends.
Pet Coils must be fed every morning and every night. Be sure to know the amount of food to give, having too much food is not a good idea!
Pet Coils must have a set time to sleep. They always need at least 8 hours of sleep every night.
Note: do NOT let your pet near any of the following: Killparts/Killbricks, Yxterminators, spinners, fire and especially Gabes.
CHAPTER 2: DISEASES, SYMPTOMS AND TREATMENT
In this section, this guide will teach you on treating common diseases that may affect your Pet Coil and how to treat/cure it.
It is always recommended to seek a professional doctor for help, especially if your pet has any serious diseases, even if you're sure you can treat it.
FEVER
A fever occurs when a Coil has an increased temperature than normal or has been infected by bacteria and germs. Fevers may cause loss of appetite, sleepiness, feeling cold and fatigue.
Treating it is fairly simple, your pet must rest and drink lots of water to stay hydrated (do not give cold water). If the fever lasts for over 3 days or is experiencing pain, call a doctor for help.
GABE
A "Gabe" occurs when a Coil has been near any species of Gabes. The Coil species are usually allergic to these types of creatures.
If your pet has been infected, put them in quarantine for 3-5 days and inform the local authorities.
Due to the lack of understanding of the "Gabe" disease, this guide cannot help you any further. Testing is currently pending...
CAT MAID
Ẻ̸̦̲͓̙̪̥̠̙̲̿̆̇̚̚͜X̸̡͇͎̥̝̹̩̙͎̤̠̯͗̊̒̋͒̀̽͆̈̋̈́̔͒̓̎͑̄̽̌̈́͑̂͜͜͝͝T̷̲̥͓̬͍̙̻̦͖̪̠̖̼͈̪̬́̾̍͑̔̎͂̒́̔͗̍͒̉͗̐̕̕Ṙ̸̹̗̠͓̣̞̜͖̲̏̆̍̾̂̓͊̓̐̇͘͠Ǎ̶̢̡̤̜̍̽͌͆̃̎͌͊̃̾͘ͅC̵͕̭̩͓͓̜̦̼͛̈́̋́̇̑͗̐͂͆́̆͠͝͝͝Ţ̷̡͍̱̲̺̻̳̝͚̱͚̦̦̬̮̼̿͊̅̓̆̍̓̔̆̓́̉͝͝s̵͔͓̯̮͙̣̓̋͐͂̔͐͋̾̒̌̂́̊̕̕̚͜͝h̵̢̡̠̹̼̱̦̖͚͉̗̪͖̞̞̩̝͎͕̰͈͚͛̏̓̐̍́́̆̓̑̆͆͒͘͝͠ͅͅd̷̢̛̛̜̟͕̻͕̼̥̠̩̬̐̓̄̉̾͛̿̽̓̈́̇͋͆̑͜g̶̡̜̮̠̞̹̗̥̬̜̹̲̻͓̜͔͍̠̹͉͕̲̯̱̓̊̈́̀͝s̷̨̨̺̬̰̪̪̪͔̣̤̺̰̥͕̻̐̚͝͠h̶̗͓̮̝͓̗͚̲̱̦̆͌̈́́̓͊̔͂̂̒̊̃̐̐͗̍͗̕̕̕͜͠͝G̵̨̨̳̯̜͔͇͉̟̖͚̭̫̳̙̗͕̘̥̈̾̾͌͒͆̈́̓͂̎̈́̽̏͐̓̆̇̾͘͠Į̸̨̨̧̡̛̲̰̝̦̩͚̫̬̬̣͈̭̣̬̗͔̭̗̥̋̃̆̃̎̿͗̋̿̓̂͋͆͑̕͝B̶̛̘͈͌̑͐̆͋̈́͊̓̀͐̕͘͜͝B̴̢͓̲̟̣̝̯̦̞͇̃̿̓̀̓̽̈́͌̿̓̎̈́̀̆̂̍ͅȆ̴̘̘͖̳̻͎́̒͗͋͐̚R̸͓̺͈͈̳͓̬̮̖̲̎̅͂̔̎͐̑͂͌͗̋̆́͌͆͒̑̈́̄̈͠Ì̷̛͍͛̑̂͊͒̑̈͋̊͂̇̐͝Ş̵̡͙̪̥͙͕̝̙̝̫̮͔͉̜͙̺͛͂̊̉́͌̽̍͘͜ͅH̶̨̠̰͙̠͉̪͍͙͙̥̋̑̊̔̀̈́͂̐̋́͒̀́̂̂̃͆̉̂̎ͅf̶̧̻̞͔̩͔̩͕̪̩͈̜͗̔͗͑̾̋̐̂͐̆́̀̿̀̈́̈́̔̒̚͘̚͜͠͝͠i̸̦͒͌̐ĺ̵̳͔̝̥̩̥͈̬̖̣͍l̴̢̧̨̦̖͓̺̳̤͖̠̞̠͎͖̮̲̭̲̦͖̼̆̈́͗͌̌i̸̢̧̗͕̻͍̝͖̺̭̥̭̬̱͖̣̜̎̍̎̋̔́̀̋̂̔̈́́̐̚͘͜͠͝͝͝ͅn̶͚͛̃̅̓̄̏̕͘͝ģ̶̤͉̦̲̱̮̜̮͛̊̈́̔͊͂͆̉̇͊̓͒͘͘͜ǵ̸̢̡̡̧͍̭̗̰͓̯̜̫̺̰͇̬͙̲͂̉̓̐͑͆̂́̌͛̍̀̏̽̉͜í̶̡̨̮͉̲̮̻̘̟̘̣̟̘̺̫̩̜͚̘̩̻̈́̉͋̇͛̄͋̇͊͂̃͐̕̕ͅb̴̢͍̱͙̮̣̰̳͕̩̟̥͖̤̺̬̰̒͛̊̌̿̿̈́̆͒̆̌̃̎̊͒̆͑͊̕͠͝͠b̵̳͔̦̄̄́̃̽́̂̀̑͘͠ȩ̴̪͖̳̼̜̗͉̖̦̩͚̪͓͉̫̠̾̊͗͑̇̈́̄̇̐͗̅͌̈́̌̎̍̈́̋͗̽̄͘͝͝ͅr̴̨̝̺̭̦̠͖̙̪̤͎̹̹̰͔̤̥͊̎̈͐ī̸̧̢̡̛̛̜̜͚̘͔̣̜̤̥̮̬͕͖̦̟̫͚͉̯̾̈́͆̊̐̍͐̿̅̀͆͐s̷̞̱͕̮̣͇͍̖̘̤̳͙͂̌̓́̕̚̕ḩ̶̛̲͚͙̦̳̫̰̙̮͈̟̫̌͆͋͊̒̊́̃̑̓͊̓̌́̎͂͆͝͝͠ç̷̢̛̠̪͚̘̥͙͍͇̱̹͓͓̦͚̗̣̦͍̳̂͛̈́͊̒́͐͛̆͜͜͝ò̵̧͉̹͍͖̯̯̈́͌͋͒̆͊͗̇̚͝d̴̢̥͍͕̝̯͔̬̺̭̹͓̺̳́͛̿̃̓̏͋̔͋͗͌̎̀̂̚ẻ̵̛̟͚̙̞̩̃͋̎̅̐̿̅͘͘͝͝ ̶̨̡̡̧̧̟͍̫̪̝̺́̃̉̄̈́̕̕͠ͅͅd̶̨̏͂ͅȩ̸̺̻̩̪͙̱̙̺̜̥̼͓̬͖͈͊͒͒͂̈̅̉̈́̂̽͋̈́̈́̎̀̕͝͠ͅͅͅͅń̵̤̰͓̒̓̿͒͊͌̍͐̐̕į̴̧̡̛̟̯͔͔͕͈̳͎͈̥̘͖̼̘̄͌́͊̃̉̽̈̔͌̆́̍̉̍̿̓͘͠͠ͅͅẵ̶̛͔̝̦͕͑̏̔̌̾̾̉͌̈̂̌̀̉͗͐͐͗̚̕͘ļ̵̨̡͚̯̦̘͔̭̝̤͇̩̝͖͓̞̞̩̯̈́̀̒̈̈͂̐̏̀͗̄̌̐̐̕?̷̡̢̢̫͕̹͙͚͈̫͕̩̦̥͙͚͍̩̿͛̿̿͝?̸͉̳̤͓̫̮̱̱̥̤͖͗̑̏̈͋̇͌̒̓͑̌́̍͐̚͘ͅ?̸͍͙̮̰̖͇̮̉̽̍́̾͊̇̈́̐̈́͒̌̃́̋̚̕͜ͅ
CAT
C̷̮̣̆̄̃̀̓̅̀̌̐̀͘̕̕̕͠Ä̴̧̧̧͙̥̬̦̟̬͍̼̼͎̥̮̙̩̟̗̞̽͗̇͊̓͂́̂͑̉͗͋͜͜T̴̛͍̅́̑̑̈̍͂̋͌̀̈́́̏͘̕ŵ̷̢̜̼̳͉͍͎̞̜̣̦̞̣̦͕̤̞̳̔̃͑̕̚͠ḍ̸̨̱̰̣͉̜͔̯́̇͆̑̾̾̊̓̈̒͛̽͊̍̿͋̕s̴̢̡̞͉̮͔̻̜͍͙̲̤̘̼͈̞̺̤̮̝̠̙͖̓͂̀͜͝h̵̛͚̥́͆̍͊̾̍͋̓̾͛̀̓̍̆̍͊̽̀̕̚̚͝s̸̳͕͙͔̳̼̦̯̺̱̱͓̝̙̭̬̏̅́͊͛̃͌͒̐͂͒́̋̑̅͌̒͂͜͝͠h̴̨̹̣̲͎̥̮̻̟̩͈̥̯̺̻̒͑͌̀̾͒̐͗̎h̸̨͎̪̲̞͉͕͚̽͒̂̊̇̌̓̀̐̑͋̽̊̋̂̂̽̈́̃̒͘͝͝ș̴̢̧̳̭̣̱̟̭̣̖̜̠͇̞̭͇̥͕͍̦͉̀̍̑͗h̴̢̨̖͊̾̈̍̽͋̀̓͐̍͘Ư̵̛̺͚̘̳̠̮̥͚̝͉͓̘̟̋̒̇̏́̀̏͆́͂̃̊̚͠͠͠͠W̴͔̼̺͉̭̹̫͊͂͂̎͂̀̔̃̄͒̐́̿̔̿͛͘͝͠H̴̡̞̠̎́͊d̶̛͕͕͙̜͎̘͇̳͉͎͈̙̦̹̝̞͛̈̀̋̎̌̔̂̈̾̓͒̒͐̎͋̌̕͘͝͝ͅù̴̢̪̄̀͛̆͒̐͘͠ ̷̫̳͓̘̞͉͚̹̟̦̥͎̹͈̘̼̙̆̃̆͐́̿̈́͑̈́̕͜H̸̖̗͕̩̫̫̖̹̻̦͇̞̙̥̽̒̍͗̿̒̇͒̇̕͘͝͝Á̸̹͈͔̙̯̭̻̤̹̩̱̾̏̃͛̃̀̃̕͜͝Ḩ̸̧̙͙̱͙̠̖͙̦̺̼̦͎̟̬̫̥͇͈͇͓͋͑̈́̑̊̎̊͒̌͋͐̔͘͜?̸̩̔̂̎̑̾͋́͌̈́̈̏͒͠ ̴̧̳̱̲̞̥̝̹͈̹̝̖̺̳̆̊̾̇̍͒͂̇̌͜͝ͅw̴̡̢̛̼̝̺̬̮̗̲̯̰̦̆̌͋̂͂̍̂͗͛̃̔̅͐̐͛̋̄̊͐̃͜h̷̨͓̠̖̮͛͒̂̒͑̽̾̊͜͝ȳ̴̡͚̠̦̰̻̺̹̠̰͔͙̼̠̙̽͜ͅỹ̵̨̜̦̥͇̖̲̜̭̳̱̘̲͌͐ȳ̸̛̹̱͓̰͓̯̞̭̫̹̠̪̗̖͆̑̀̍̈͌͋͗̓̄͐͘̕͠y̸̧̛̛͙̤͉̼̮̳̗̯͎͊̎͗͛̇̌̈́́̃̐̔̄̋͂̊͘͜͝͝ÿ̷̢̡̡̬̭͔̻̦̫̱̺̻̖͉̤͇͇̖̹͔̳͇̘͚́̓̃͑̽̀̋́̑͘̚͝͝͠
CHAPTER 3: TRAINING
In this section, this guide will teach you all about training, from the basics to the advance. All Pet Coils must be trained in order for them to become obedient. It can also strengthen the bond between them and its owner and can even impress your friends with it's tricks! (Friends not included, sorry).
SIT
TBA