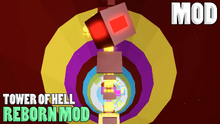 Tower of Hell: Reborn was a modification of Tower of Hell that brought 51 new sections into your private server. The mod was created by Archimetropolis, a Tower of Hell builder. You did not receive any coins or xp from the mod.
DISCLAIMER: This mod has been removed from the game; these sections can no longer be accessed in Tower of Hell.
The mod was created on December 7, 2018 by Archimetropolis, and was released in-game on July 5, 2019. It was later removed on April 30, 2021.
Other Sections