IMPORTANT: This page covers the new version of the game from February 24th, 2021 and onwards. To see more info about the previous version of the game, visit THE Tower of Hell (Old).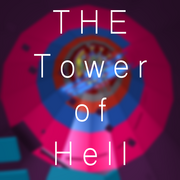 The Tower of Hell, or TToH for short, is YXCeptional Studios' second game. It is like the original Tower of Hell, but instead of there being 6-12 sections in a random order, there are 17 of ObrenTune's vanilla sections, which are considered to be the original sections of Tower of Hell.
The game does not include mutators, gears, or a timer. It is designed to be a classic version of Tower of Hell that is much simpler than the game itself.
The Tower of Hell was created on July 24th, 2018; however, it was later majorly changed to the current version on February 24th, 2021.
Information
"This is The Tower of Hell containing ObrenTune's sections from the original release of Tower of Hell" - Game description
As mentioned above, players must complete 17 of ObrenTune's sections to reach the end of the game. The sections are in a set order, meaning the game is always the same. There is also no timer, meaning the player can take as long as they want.
When the player completes The Tower of Hell, the carpet next to the door will change color, signifying their completion of the game.
The game also has its own private servers, which can be purchased for 100 Robux. They are the same as the normal game, however the player can play on their own or with only the people they invite.
List of Sections
(Accurate as of February 24th, 2021)