Mutators work like gears, but instead of only adding the chosen effects for yourself, everyone in the server experiences these effects. They only last for one round. There are 12 different mutators currently in-game (as of August 2020).
Coin Bought Mutators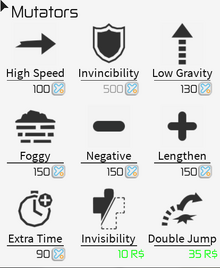 Low Gravity - Reduces global gravity by 25% (130 coins)
High Speed - Increases everyone's speed by 25% (100 coins)
Lengthen - Adds another section to the tower (150 coins)
Fog - Makes everything foggy (150 coins)
Negative - Inverts colors (150 coins)
Invincibility - No more kill parts (500 coins)
Extra Time - Adds another 2 minutes to the timer (50 coins)
Robux Bought Mutators
Bunny Hop - Makes everyone jump continuously (10 R$ / 500 coins*)
Checkpoint - Adds a checkpoint to every other section (30 R$ / 400 coins*)
Double Coins - Doubles everyone's coin reward (45 R$ / 2000 coins*)
Invisibility - Makes everyone a ghost (10 R$ / 150 coins*)
Double Jump - Lets everyone jump twice (35 R$ / 300 coins*)
*can only be bought for coins with a membership.
Trivia
There were 2 other mutators that got removed called Rainbow Fog and Shrinking.

Shrinking removes a section of the tower; rainbow fog is similar to Fog but rainbow colored.

It costs 130 robux and 1230 coins to buy all mutators (4580 coins with membership.)
The Extra Time mutator used to cost 90 coins and it would only give 1 minute of extra time, but it was changed very quickly to be how it is today.
The Bunny Hop mutator has been removed from the game multiple times:

Bunny Hop got removed on July 27th 2018 and replaced with the Shrinking mutator, Shrinking was removed 3 days later and Bunny Hop was later added back on an unknown date.

Bunny Hop got removed again on December 2019 and added back in 2020.
Community content is available under
CC-BY-SA
unless otherwise noted.