Happy Developer Home is a secret section created by PyxlDev and was added on an unknown date.
Information
Happy Developer Home starts off with 2 trusses leading to a brick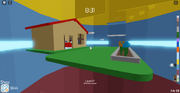 that leads on to a green brick that has a house with medium yellow walls with a red roof and has a flower garden outside. It has light blue neon parts on the side of the secret section. Inside the house, is the 2 main developers of the game, PyxlDev and ObrenTune playing Pong, while PyxlDev is doing some work on his YXCeptional laptop. It then leads to a white truss at the back at the house that directs you to the roof with a white brick that leads you on to a smaller white brick and leads you to a moving white brick that directs you to the next section.
Tips
Don't touch the light blue neon parts on the side. It can kill you.
Trivia
This is one of the few secret sections that is not grey.
Community content is available under
CC-BY-SA
unless otherwise noted.