Blank is a mysterious secret section created by PyxlDev.
Information
According to PyxlDev, this section was created so that the game would not crash after removing all sections before installing a mod on a VIP server.
The easiest way to find this section is in a VIP server. If you type /remove then /skip, Blank will not appear, but it will actually appear the amount of sections with /setLength (If you did /setLength 3-150 before both commands, Blank will appear 3-150 times).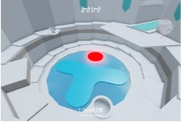 Trivia
This section has a 0.0067% chance of spawning in-game, making it the second rarest section in the game
Originally, the first letter of Blank was lowercase but was changed after Pyxl found about this page.
This was changed to a secret section on October 20, 2019, along with Anticipation.
This section used to be in THE Tower of Hell until it got replaced by Half and Half.
This is the shortest section in the game, but it doesn't count since it's a secret section.
Gallery
Blank (right) in the old version of
THE Tower of Hell
. Blank (right) in a VIP Server after /remove and /skip.
Note: When you use /remove, then /skip, /setlength <number 4-150>, then /skip again, this will depend on how many times Blank will appear.
Community content is available under
CC-BY-SA
unless otherwise noted.